Measurement Tool
FILM STRESS MEASUREMENT TOOL
We offer a range of advanced metrology products and solutions for semiconductor and MEMS applications, including measurement systems for film stress, wafer bow, local stress & strain in Si, SiGe and SOI using Raman Spectroscopy characterization techniques for new films, such as Thermal Desorption Spectroscopy, Quantitative Adhesion Testers, Ultra-thin Wafer Substrate

THIN FILM MEASUREMENT TOOL
We offer wide range of thin film Measurement tool that measure Film Thickness in Seconds. We measure thin-film thickness by analyzing how light is reflected by the film. By analyzing wavelengths beyond those visible to the human eye we can measure nearly all non-metallic films greater than 100 atoms thick.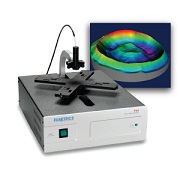 FOUR POINT PROBE SYSTEM
Four point Probe system for Sheet Resistance and Resistivity of Wafer, LCD, ITO, Solar cell, Fuel cell samples.
 

COATER & DEVELOPER    
Available but Under Construction
 

OTHERS - REFURBISHED EQUIPMENT
Available but Under Construction