Materials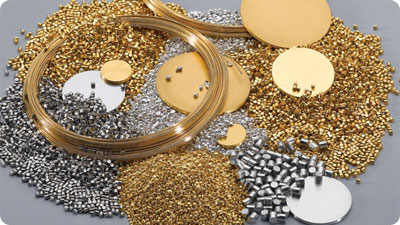 Deposition Materials & Evaporation Sources

Sputter Targets
Pure elements, compounds, alloys, intermetallics and mixtures (elements and /or compound mixed with atomic-weight percentages) . We offer common metals from A to Z and much more.
With purity from 99 to 99.9999%
Pelletcs and Pieces for Evaporation
Pellets & Pieces by unit weight for evaporation use in deposition processes. Size ; 1.5mm to 4mm pieces, 0.125 " diameter x 0.125" length, 0.250" diameter X 0.250 " length, etc. With purity from 99 to 99.9999%
Production Materials
Production targets are available for manufacturing industry.  
Target Bonding Materials and Services
We provide indium target bonding services, conductive elastomer target bonding service, copper cup bonding services for regular, circular disc-type sputtering sources.
Evaporation Sources
Thermal Filament Sources, Thermal Boat Sources, Thermal Box Sources, Thermal Rod Sources, Crucibles & Crucible heaters.
Wafers
Si, GaAs, InP, GaP, InSb, InAs, GaSb, GaN Wafers, Germanium, Glass, Quartz, Pyrex, Sapphire, Al, II-VI, ZnSe, ZnO, CdS, CdTe Wfaers, YVO4, TiO2, CaCO3, LiNbO3, LiTaO3 Wafers, SrTiO3, LaAlO3, LSAT, MgO SrLaAlO4 Wafers
Substrates
For superconductivity : Al2o3, LaAlo3, Mgo, SrTio3, Nb:Srtio3,YAIo3, Zro2(Y), etc.
Bicrystals : Al2o3, Mgo, Srtio3, Nb: Srtio3, Zro2
For III-V nitrides : Al2o3, Lialo2, Ligao2, MgAl, ZnO, etc