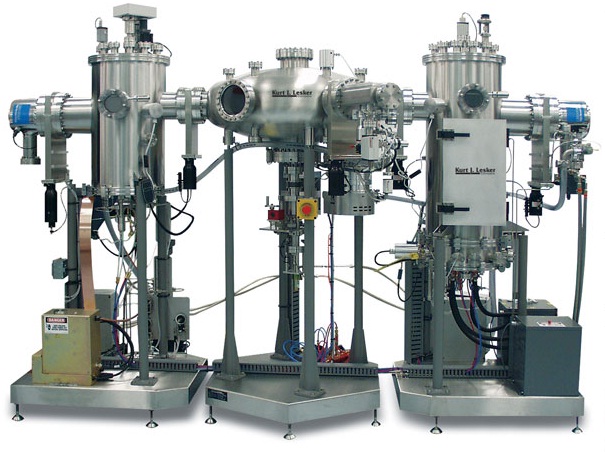 LUMINOS™— Multi-chamber thin film deposition and analysis manual cluster tool system for R&D applications requiring in-vacuum substrate transfer between chambers.
Penn State University uses Lesker LUMINOS™ to deposit multi-layered PVD and CVD thin films.
Radial Distribution Center Chamber enables 6 to 8 process modules to be connected, accommodates substrates up to 4" x 4"
Typical Applications
Multi-Chamber for OLED/PLED R&D
Multi-Chamber for Device Fabrication
Thin Film Deposition and Analysis
Deposition Techniques Available
Magnetron Sputtering (RF or DC)
Thermal Evaporation of Metals & Inorganics
Thermal Evaporation of Organics, Including OLED/PLED Applications
ALD
Electron Beam Evaporation
Process Options
Heating
Cooling
Bias
Ion Source for Substrate Cleaning/ Assisted Deposition
Features
Substrate entry and exit load lock and sample preparation chamber
Radial Distribution Center (RDC) Chamber

304 stainless steel 8-way 36" diameter chamber
Manual rotary sample transfer device
Motorized linear and Z-shift sample transfer devices
Pneumatic isolation valves between radial process chambers

Organic Evaporation Chamber – Available with up to 9 low-temperature organic evaporation sources
Metal Evaporation Chamber – Available with up to 4 thermal evaporation sources
Mask-Changing Module
Manual Z-shift sample transfer device for mask exchange
10-mask storage capacity with mask holders
Optional
Sputter deposition chamber
Reactive plasma cleaning chamber
Computer-controlled process automation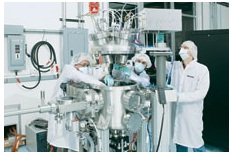 For over 20 years, Kurt J. Lesker has designed, manufactured, assembled, programmed, and tested hundreds of thin film deposition systems for both research and production applications. Kurt J. Lesker four clean assembly areas, located at their US and UK facilities, provide the necessary environment for system assembly and testing. All seals, welds, flanges, and chambers are helium leak checked and inspected to ensure vacuum integrity prior to system assembly. These components are then professionally assembled by Kurt J. Lesker technicians using protective wear to prevent contamination. Kurt J. Lesker on-site fabrication shops offer immediate support for any necessary modifications during assembly. Functional testing of the completed systems to standard procedures and customer specifications ensures reliability and customer satisfaction. Kurt J. Lesker offers on-site system start-up and customer training for any of their systems to get your process up and running—quickly and efficiently.