KDF - 900 Series (PVD)
The 900 Series features dual load lock, in-line, sputter down, batch systems configured with an optional high vacuum load lock and three or four target positions.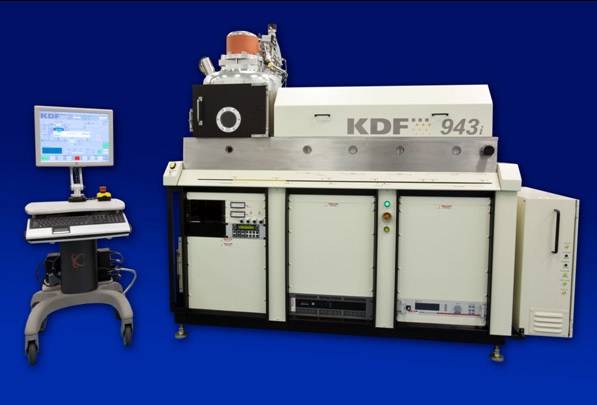 High-rate DC magnetron sputtering, single pass or multiple pass deposition and dual-level high vacuum pumped load lock features support the versatility and high-throughput of these production systems. Cathode and wafer orientation are horizontal, allowing the sputtered material to be transferred vertically.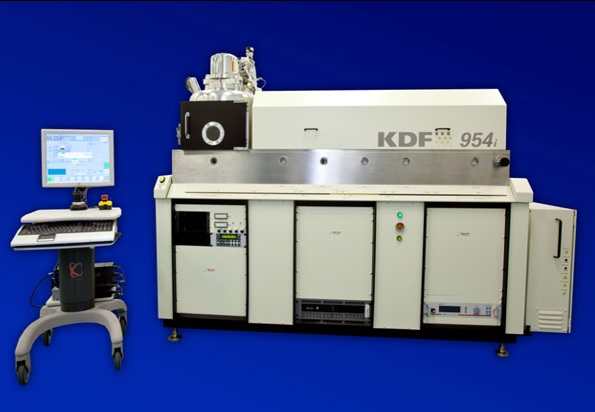 The 900 series systems are extremely versatile and can be used in countless applications where unique size, shape, or substrate height is a concern. The 954 systems with the tall dome option can accommodate substrate heights up to 2 inches. The 900 Series systems are popular for their pure metal target deposition and convenient wafer-to-pallet loading abilities. The 900 series includes the 903i, 943i, 943ix, 954i, and 954ix The 954i and the 954ix offer up to four-target capability. The ix series systems offer an extended sputter area for increased process uniformities utilizing KDF's "X-series"™ cathodes. The ix series also supports KDF's new LMM™ cathode along with other cathodes designed by our in house cathode design team. All 900 series systems can also be enhanced with KDF's proprietary ERPP™ and scan velocity profiling.
The 900 series systems all meet the Semiconductor S2-0706 safety spec as part of the standard system package. A CE option for the European community is available. Pulsed DC sputtering via Advanced Energy Pinnacle Plus is also available. All 900 series system have remote PC accessibility allowing for software upgrades and file repair via an Internet Ethernet connection. Full Documentation is standard and is available on std. paper, clean room paper or an electronic CD version.
The KDF 974i
The KDF 974i tool offers an increased pallet size of 20 by 20 inches along with four RF/DC target capability.