MTI - Tube Furnace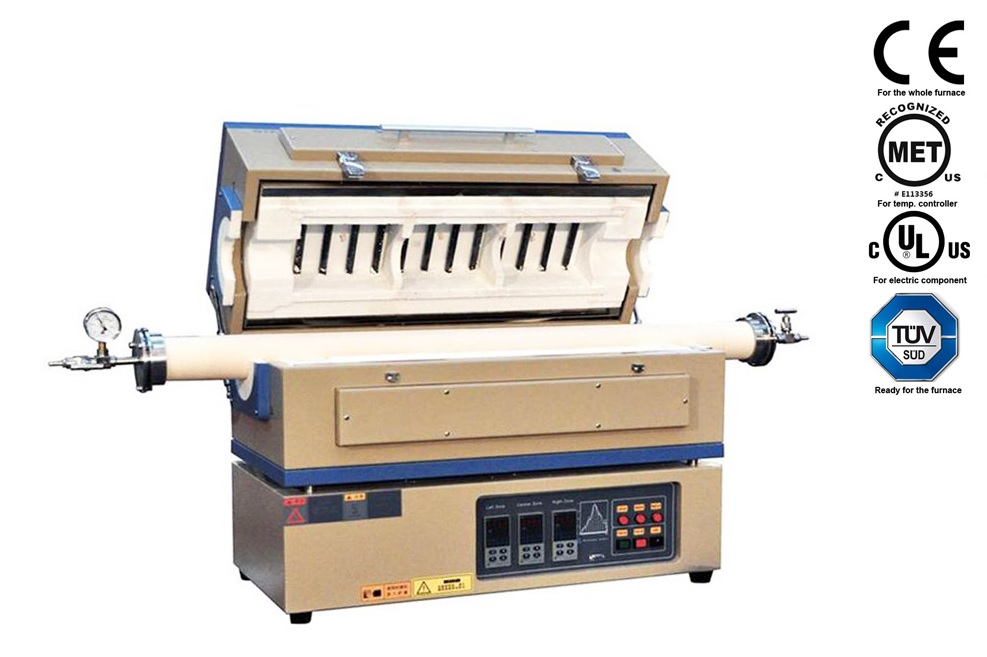 OTF-1600X-III- is a split-able three-zone tube furnace with Kanthal 1650°C grade SiC heating element, 82mm OD Alumina tube and vacuum sealed flange. Three 30 segments temperature controllers are installed with S type thermal couples. Microprocessor-based self-tuning PID provides excellent control with no overshooting and +/- 1°C accuracy. It is an excellent furnace for exchanging processing tube for multi-purpose upto 1600°C.
Power Input

7.0 K W

Working Voltage

AC220V Single phase 50/60Hz ( 50 A breaker required)

Max. Working Temperature

1600°C 《1 hours

Continuously Working Temperature

1500°C

Recommand Heating rate

5°C/min.

Processing Tube

Heat Zone Length

Three heating zones: 200 mm / each ( included 20 mm spacing )

Total zone length : 600 mm

Constant Temperature Zone length: 350mm ( if set 3 zone at same temperature ) +/- 2ºC.

Accept processing tube upto 100 mm diameter

Temp. Profile at 1400ºC

Overall Dimensions

860 mmL × 380 mmW × 680 mmH

Temperature Controllers

Three digital controller via SCR (Silicon Controlled Rectifier) power control with phase angle fired,

Each controller is 30 programmable segments for precise control of heating rate, cooling rate and dwell time.

Built in PID Auto-Tune function with overheating & broken thermocouple protection.

Over temperature protection and alarm allows for operation without attendant(s).

+/- 1 ºC temperature accuracy.

Three S type thermocouples (one for each zone).

RS485 Communications Port.

Optional:

The furnace may be operated by PC by installing a control module. Please order a MTS-02 control module at extra cost.

If you order the PC control module together with the furnace, we will install and test it before shipping. We recommend you to order a computer laptop from us to avoid software installation problems.

Thermal Block Placement

Vacuum Level

10E-2 torr by quality mechanical vacuum pump

10-5 torr by molecular pump

Heating Elements & Thermal couples

24 pcs Kathal 1650ºC grade Silicon carbide rod ( 12 dia. x 150 heating x 374 lengt ,(mm) )

3 pcs S type thermal couple built in

Please click picture below to order spare heating element

Notice: Customer will install SiC rod on site by themselves as instruction manual due to they are easy to damaged during shipping.

Net Weight

110 Kg

Warnings


The tube furnaces with alumina tube are designed for using under vacuum and low pressure < 0.02 MPa / 0.2 Bar/ 3 PSI

Attention: A two stage pressure regulator must be installed on gas cylinder to limit the pressure to below 3 PSI for safe operation.

The flow rate for gases should be limited to < 200 SCCM ( or 200ml/min )

Vacuum limit definition for all alumina tube furnaces: * Vacuum pressures may only be safely used up to 1500°C





Warranty

One year limited warranty with life time support (consumable parts such as processing tubes, and O-rings are not covered by the warranty, please order replacements at related products below.).

ATTENTION: Any damages caused by the use of corrosive and acidic gases are not under the coverage of MTI One Year Limited Warranty.

Compliance

CE Certified

All electric components ( >24V) are UL / MET / CSA certified

The furnace is ready to pass TUV(UL61010) or CSA certification at extra cost.