Opticial Measurements Techniques -  Raman Spectroscopy Metrology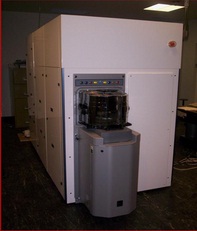 The inelastic scattering of photons in visible and NIR and UV with change of frequency of scattered photon in the range of 100 - 5000 cm-1 is commonly referred as Raman spectroscopy, and it has been recognized as an effective tool for investigation of vibrational properties of semiconductor crystals since early 1970s. 

FSM R&D and engineering teams have further extended this well proven technology to study of structures with complicated strain configurations involving strain varying as function of the distance from the surface of device, where both diagonal and off-diagonal strain components play important role - as it takes place in novel strain silicon epi-layers and devices, SiGe structures, localized oxidation of silicon (LOCOS) structures, and complicated micro-electro-mechanical (MEMs) devices. It can be also used as an effective tool for characterization of the device during final back grinding and packaging steps. 

FSM tool offers very high spectral resolution, multiple excitation sources, phase modulated thermoelectrically cooled (TEC) Charge Coupled Device (CCD) detector, and full automation needed by modern semiconductor device manufacturing. High spectral resolution of FSM system allows not only detecting minute strains in the sample but also allows to study changes of Stokes line shapes and provides powerful tool for study of scattering originating from various layers of the material.  Multiple excitation sources characterized by different wavelengths and different penetration depths allow user to access and identify strained layers buried at different depths inside semiconductor structure. 

FSM Raman system is provided with standard Phase Modulated CCD allowing eliminating liquid nitrogen cooling requirement, and simplifying maintenance of the systems in industrial environment. 

Finally FSM proprietary Stokes radiation polarization sensing technology allows identifying various components of the strain tensor for many commonly encountered structures. 

FSM Raman system is provided with various microscope objectives and detector options. For more information on FSM Raman metrology, its advantages and limitations, and solutions specific to your applications please contact us directly.
Premier Solutions Pte Ltd / Raman Spectroscopy Metrology (Optical Measurement)