Description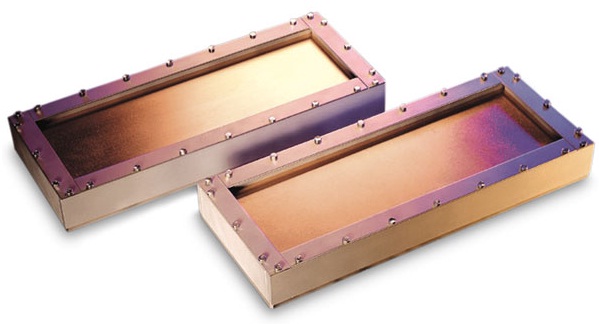 Our TORUS® line of performance production magnetron sputter sources is a major breakthrough in the field of high-volume sputtering with target utilization up to 50%.
These sputter sources feature a unique combination of exceptional target life, high sputter rates, and increased power densities unmatched in the industry. The patented magnet designs trap electrons in inner, center, and outer erosion zones with precise magnetic field shapes to enable even erosion at maximum sputter target usage.
With circular production sources available from 6" to 12" diameter and linear sources available in lengths up to 140", KJLC® is positioned to offer the sputter solution for your production environment.
Features

Target utilization up to 50%
Operating voltage drops as low as 15% for deposition process stability
Patented magnet designs for magnetic or nonmagnetic materials
Standard linear cathode sizes from 2" to 11" wide and up to 140" long
Standard circular cathode sizes up to 12" diameter
Versatile RF, DC, or Pulsed-DC operation
Internal or flange-mount configurations
Customer-specific designs available
Cathode retrofit and rebuild services available

Applications

Automotive coatings
Architectural glass
Photovoltaic cells
Superconductors
Tool coatings
Wear coatings
Flat panel displays
Lighting
OLED/PLEDs
Medical coatings
Optical coatings
Utilization by Target Size
Our production cathodes optimize sputter target utilization for a wide range of target sizes, geometries, and materials. The values represented in the utilization table were from using aluminum targets eroded at 9kW and 10-3 Torr using argon.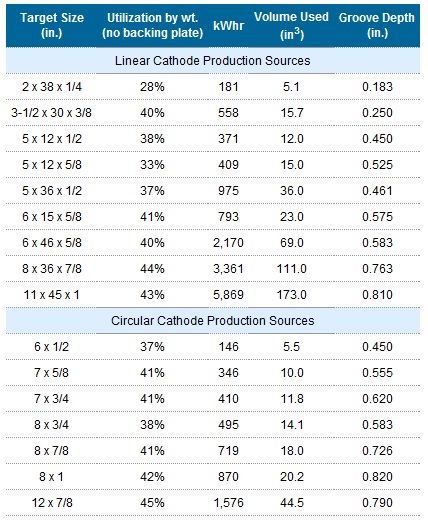 .