Description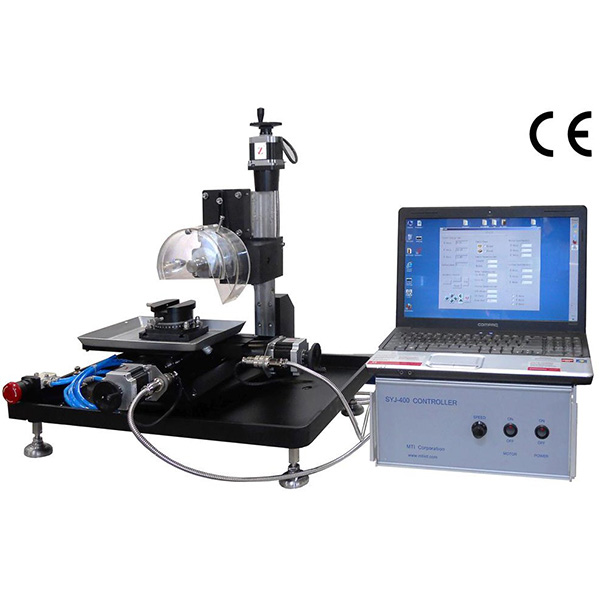 Item Number:SYJ-400
SYJ-400 (upgraded EC-400) is aCE certifiedprecise dicing and cutting solution for R&D Lab in Materials and Micro-electronics research field. It is designed for dicing and cutting almost all kinds of materials up to 4" diameter wafer or 8" L x 4" W x 1" H components. The EC-400 saw can be computerized with position accuracy of 0.01 mm. The sample stage with two-angle adjustmentallows customers to cut materials at the desired angle with +/- 0.5° tolerance. Laptop with software and USB cable are installed.
SPECIFICATIONS
Voltage: AC 220V 50/60Hz
Motor: Brush-less magneto DC motor (110V) with variable speed up to 3,000 rpm.
Power consumption: 180W
Effective Cutting Range: 3 dimension: X-axis: 8" Y-axis:4" Z-axis:4"
Accuracy: 0.0025 mm moving resolution and 0.01 mm position accuracy.
Cutting Blades Kits:
One

4" dia x 0.35 mm thick fully sintered diamond blade

Two

pairs of flanges with 62 mm dia. ( for dicing ) and 42 mm dia. (for deep cutting)
Control Mode:
Manual control / PC control

Brand name laptop with pre-installed software is included
Water Cooling: Assemblies of water jetting, draining, and splashing protection are included.
Net Weight & Dimension:
Shipping Weigh & Dimension:
Shipping weight : 150 lbs

43"L x 30"W x 34"H (inch)
Warranty & Compliance:
Certification: CE certified
Premier Solutions Pte Ltd / MTI Corporation - Precision CNC Dicing / Cutting Saw with Digital Controller and Complete Accessories - SYJ-400