Description
Filmetric Product-Wafer Metrology Made Affordable
Process engineers want film thickness measurements fast and without a lot of hassle.  Our innovative Thickness Imaging™ technology allows Filmetrics to offer easy recipe set up and industry-leading throughput, at a mere fraction of the cost of competing metrology tools.
Unlike conventional metrology tools that measure the thickness at a single spot, the Filmetrics F80 quickly generates a thickness image by collecting thousands of thickness readings in the vicinity of the measurement location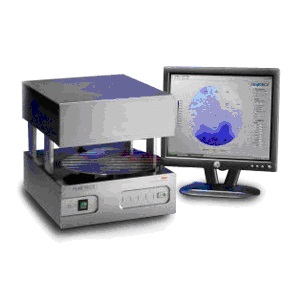 This revolutionary innovation results in...
• Ultra-Fast Measurements - As Fast As 15 points in 21 seconds
• Superior Ease of Use
• More Robust Automation
• Lower Cost than the Competitors
Configurations available from low-cost, manual load Table Top Systems to BOLTS Integrated Metrology Modules to fully automated Standalone Cassette-to-Cassette Systems
If you are searching for the next generation in thickness metrology, then look no further than the Filmetrics F80.
The Filmetrics F80 is the tool CMP, CVD, PVD and Wafer Track Process Engineers have been waiting for.
Premier Solutions Pte Ltd / Filmetrics F80-t System thin film measurement / thickness measurement