Description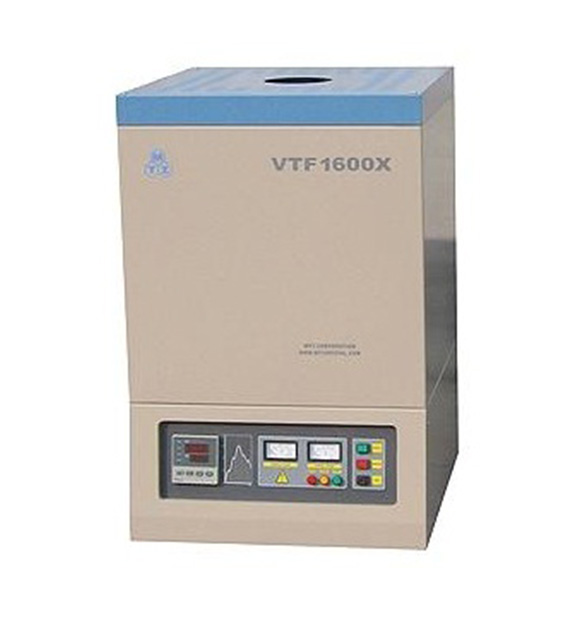 Item Number:EQ-VTF-1600X
EQ-VTF-1600X Furnace is designed for melting metal and crystal growth via TSSG. The furnace has a vertical chamber with top load and a pulling equipment can be attached to the furnace easily. The furnace consists of high quality alumina fiber brick and MoSi2heating elements with chamber of 13" Diameter x 10 " high, and can be used up to 1600ºC (2912ºF). The Precision digital temperature controller with 51 segments programmable is built in the furnace.
Main Specifications

 

Furnace construction

Double shell steel casing with cooling fan to keep low surface temperature

High purity alumina fiber insulation and liner for max. energy saving

Inside Chamber Size

13" Diameter x 10 " high

Standard Working Temperature

1500ºC (2732ºF)( continuous )

Maximum Working Temperature

1600ºC (2912ºF) ( < 3 hrs)

Temperature Control

51 steps programmable and auto control

Heating Rate

0~10ºC / min (suggestion at =< 5ºC)

Temperature Accuracy

+/- 1 oC

Heating Element

MoSi2

Working Voltage

AC 220V single Phase

Max. Power

9.5 KW

Outside Size

Net Weight

180 Kg

Dimension of shipment

45" x 45" x 52"

Weight of shipment

400 Lbs

Warranty

One year limited warranty (Consumable parts such as processing tubes, o-rings and heating elements are not covered by the warranty, please order the replacement at related products below.)
| | |
| --- | --- |
| | |
| Cap of the cylinder chamber | Top view of the cylinder chamber |
View Operation Manual
Download Catalog Flyer Customized mechanical pulling machine is available upon requestion.
Warning: MoSi2 heating element is used in the high temperature under oxidizing atmosphere. It will form the SiO2 film which can keep the element from being melted. During the oxidizing process, the SiO2 protecting film is formed again when the element continues to be used. The MoSi2 heating element must not be used in the temperature between 400ºC and 700ºC for a long time, otherwise the element will be cremated under the strong oxidizing function in the low temperature.
Premier Solutions Pte Ltd / MTI Corporation -
Crucible Melting Furnace 13"D x10"H up to 1600 C with 51 Segments Precision Controller - EQ-VTF-1600