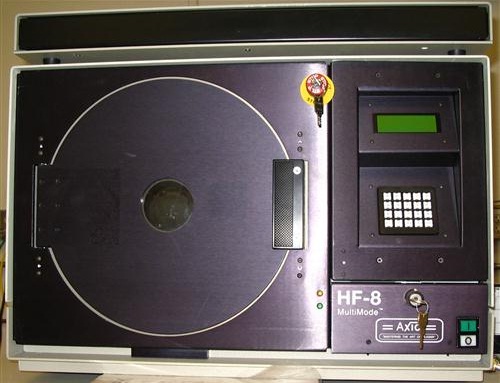 Axic Multimode® HF-8
A Unique Modular Approach to Barrel Plasma Processing
The MULTIMODE® Series of Plasma Processing Systems from Axic, Inc. defines a new concept in harrel plasma processing.  The systems are based on a modular design starting with a universal hase unit with multipIe chamber and electrode modules available for easy insertion into the base unit.  You will find the ease ofuse, variety of plasma processes, serviceability and attractive pricing unsurpassed by any other plasma system on the market.
Features
Small tabletop design
Available in two RF frequencies : LF Model [3OKHz] and the HF Model [13.56 MHz]. 
The LF/HF-8 will accommodate the processing of eight [8] inch or smaller substrates.
Interchangeable Chamber And Electrode Modules
Variety Of Chamber Materials: SST, Al, Anodized Al
Multiple Electrode Configurations: Cage, Tray, RIE, Downstream
Proven Process Recipes
Field Proven Components
End-Point Detection
Auto RF Matching
Downstream Pressure Control
Computer Controlled
Multiple Pumping Options
System Description
In the research and process development of plasma processing, the need for a highly versatile and reliahle tool is always in considerable demand.  With the ever changing requirements in plasma research, the system selected must he capable ofoffering the widest range of process parameters, highest degree of repeatability for verifying the process and easily modified for new process requirements.  The AXIC MULTIMODE® series of dry process systems will satisfy the demanding requirements necessary to perform these tasks.  The AXIC MULTIMODE® is a plasma tool used in research, process development or low volume production for photo-resist striping and descuming, isotropic etching, organic ashing, hybrid circuit cleaning, printed circuit hoard desmearing, failure analysis, surface treatment and modification of plastics, polymer deposition, and a wide range of other plasma applications. The MULTIMODE® product line offers a uniquely new modular approach to barrel plasma systems.  The systems are availahle in two RF frequencies , the LF Model [3OKHz] and the HF Model [13.56 MHz].  The LF/HF-8 will accommodate the processing of eight [8] inch or smaller substrates.  The selection of proven, quality components, modular subassemblies, versatile chamber-electrode design, compact size, automation and field proven process recipes will make the LF-8/HF-8 the "system of choice" for most plasma process engineers.
Applications
With the AXIC MULTIMODE's® wide selection of chamber and electrode configurations the system is capable of satisfying a wide range of plasma processing conditions.  These processes range from simple surface cleaning to sophisticated submicron Reactive Ion Etch (RIE) etching. Axic, Inc., in conjunction with our large customer base has developed proven process recipes guaranteeing your system is up and processing from the day you install the system.  Only the highest quality subcomponents are used in the manufacturing of the AXIC MULTIMODE® system providing the highest up-time, reliability, repeatahility and serviceability.  Typical processes include:
Plasma Descum
Photo-Resist Stripping
Surface Treatment
Anisotropic & Isotropic Etching
Failure Analysis Applications
Material Modification
Passivation Etching
Polyimide Etching
Adhesion Promotion
Biomedical Applications
Polymerizaton
Hybrid Cleaning
Specifications
The great success of the AXIC MULTIMODE® is due to its highly versatile design fearnrcs.  These features include a small footprint for table-top or laminar flow installation and modular chamber and electrode configurations for a wide variety of plasma processes. In addition a selection of RF operating frequencies, process controllers, process gas control, and vacuum pumping options are available.
Base System
The universal base unit for all AXIC MULTIMODE® configtirations contain all necessary valves, vacuum plumbing, RF power, RP matching, process gas control and system logic to provide a completely automated plasma processing system.  The base unit is designed to accommodate a variety of chamber and electrode modules which are easily inserted into the base unit.  Within a few minotes the system can be converted from a general barrel plasma processing system to an Reactive Ion Etch (RIE) or Parallel Plate processing system.
Chamber/Electrode
The AXIC MULTIMODE®'s modular chamber and electrode assemblies are the most unique design feature of the system.  Chambers are available in aluminum, anodized aluminum and stainless steel.  The chambers are easily interchanged from one material to another.  The process chamber consists of a tube and two [2] end-plates sealed to the tube via o-ring seals.  Several different electrode designs are available which include water cooled [temperature controlled] parallel plate electrodes for Reactive Ion Etch (RIE) and Planar processing, alternating tray electrodes for surface cleaning or treatment, downstream electrodes for minimizing ion damage and cage electrodes for general barrel plasma processing.
Plasma Sources
The systems are available in two standard processing frequencies 30 KHz and 13.56 MHz. Each frequency has unique processing characteristics that allow the user to select the most appropriate frequency for their specific requirements.  Available RF power ranges are from 150 Watts to 1250 Watts. Auto or manual matching networks are supplied where necessary.
Process Pumping
The systems are supplied with a mechanical pump or mechanical pump with roots blower with various sizes of these pumps available depending on the necessary vacuum processing levels.  The pumps can be supplied in a corrosive series [inert fluid] for oxygen or corrosive chemistry applications.  Downstream pressure control and mass flow control is also available for independent control of the process vacuum and process gas flow.
Computer
An embedded computer with keyboard and display screen is provided for complete automation ofthc system.  Unlimited recipe storage is provided with multilevel process steps.  The system provides display of all operating parameters and can be easily programmed by the user.
Options
A wide selection of processing options are available for the AXIC MULTIMODE® system further increasing the systems capabilities.  Let us tell you more about the AXIC MULTIMODE® series of plasma processing systems by calling, writing ur faxing us.  Please ask for our detailed pricing and specification sheet.  We cordially invite each of you to either visit our applications laboratory or request a more detailed technical presentation on the AXIC MULTIMODE® series of systems.
Dimensions
System - Width 24.5" [62cm] x Depth 25" [63.5cm] x Height 15.5" [40cm]
Weight
100 lbs [45kg]
Utilities
| | |
| --- | --- |
| System | 110 V, 60 Hz, 15 Amps |
|   | 220 V, 50 Hz, 7 Amps [Optional] |
| Pump | 11OV, 60Hz, 1OAmps |
| H20 | For Electrode Cooling [Electrode Dependent] |
| Air | For Valve Operation |
| N2 | For Chamber Vent |
| Gas | Process Gasses |
Premier Solutions Pte Ltd / Axic Multimode® HF-8