Description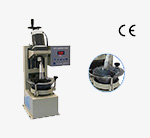 MSK-SFM-8 is designed for grinding & mixing small batch of chemical and compound automatically for R&D laboratory. It's mortar and height adjustable pestle are designed for efficient, easy and uniform grinding. The mortar can be taken off easily for cleaning. It is an excellent tool for preparing various ceramic materials in research lab so as to save labor. Grinding time can be set according to using the automated controller. Minimum granularity can be as small as microns even nanometers.
Power:
Input: 24VDC

150W Max.

110- 240VAC to 24VDC power adapter is included

Power adapor is UL, CE approval for worldwide use. PSE approval for Japan is available upon request.
Grinding Bowl: