Description
Annealsys - MC100
Low cost 2-inch Metal Organic Chemical Vapor Deposition (MOCVD) system for R&D laboratory.  Deposition and annealing in the same chamber.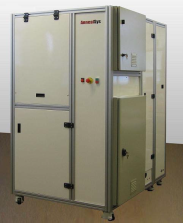 Semiconductor: SiO2, HfO2, Ta2O5, Cu, TiN, TaN, ...

High k Dielectric: SrTiO3, BaTiO3, Ba(1-x)SrxTiO3 (BST)- Ferroelectric: SBT, SBTN, PLZT, PZT

Superconductor: YBCO, Bi-2223, Bi-2212, Tl-- 1223, ...

Piezoelectric: (Pb, Sr)(Zr,Ti)O3, Modified Lead - Titanate

Metals : Pt, Cu, ...

Colossal Magneto Resistance

Thermal coatings

Buffer layers

Mechanical coatings

Optics

Etc...
The Annealsys MC100 is a cold wall Metal Organic Chemical Vapor Deposition (MOCVD) reactor especially developed to meet the requirements of research and development units.

The MC100 allows doing heteroepitaxy of oxides on single crystals wafers (such as YBCO/LAO, STO/MgO, MxOy/LAO,…) by Metal Organic Chemical Vapor Deposition (MOCVD) using a wide range of solid and liquid organometallic volatile precursors using Direct Liquid Injection technology.

The MC100 system can be provided with various vaporization systems and vacuum equipment depending on the application.

Pulse pressure Chemical Vapor Deposition (CVD) capability
Performance & characteristics
Temperature range: RT to 800°C

Gas mixing capability with mass flow controllers

Vacuum range: Atmosphere t

o 10-3 Torr

High vacuum optional
Premier Solutions Pte Ltd / Annealsys - MC100 (Metal Organic Chemical Vapor Deposition ( MOCVD ))