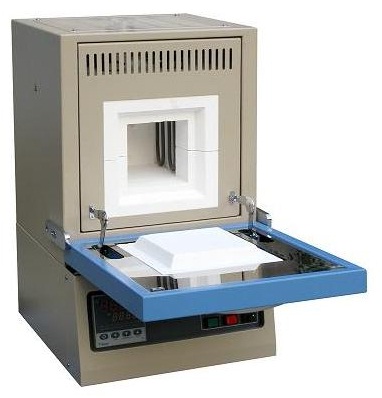 Item Number: KSL-1800X
KSL-1800X-S is CE certified compact high temperature muffle furnace up to 1800°C with for max energy saving. It is an ideal tool for preparing new generation material in research laboratories
The furnace consists of high quality alumina fiber brick and Kathnal Super-1900 MoSi2

heating elements with double layer case.

Gas inlet and venting port are installed for using at oxygen or inert gas rich atmospheres.

Design of sliding down door is for loading sample at easy.

The furnace temperature is controlled by high precision

SCR (Silicon Controlled Rectifier)

digital controller with accuracy +/-1°C and 30 segments programmable up to 1800

°

C

.
click picture below to see details
| | | | |
| --- | --- | --- | --- |
| 30 segments programmable controller | sliding down door for loading sample at easy | | Warning: must put on refractory block before close door |
Specifications
Inside Chamber Size
120 x 120 x 120mm (4.7" x 4.7" x 4.7 "), 1.7 L
Furnace Structure
Double layer steel structure with air cooling fan to keep case temperature below 55°C

YSZ liner for heat resistance up to 2000°C
Standard Working Temperature
1750°C (continuous)
Maximum Working Temperature
1800°C (< 2 hours)
Temperature Control
Heating Rate
0 ~20°C / min (suggestion =< 10°C)
Temperature Accuracy & stability
+/- 1oC
Temperature uniformity
+/- 5°C over 120 mm (5") @ 1700°C
+/- 2°C over 80 mm (3") @ 1700°C
Heating Element
Thermo Couple B Type (Pt-Rh to Pt-Rh) with Alumina tube
Working Voltage
AC 208V-240V single phase, 50/60 Hz (50A air breaker required)
Max. Power
2.2 KW (30A breaker required)
Power cable & plug
10 feet length 14-3 AWG heavy duty UL approve power cable is included

Plug is not included. You can order from your local hardware store according to female plug in your lab, or order from link below (30A plug)
(click here to order plugs from us)
Outside Size
380 x 410 x 620 mm (15" x 16" x 24.5")
Net Weight
30 kg
Limited Warranty
One year limited warranty (Consumable parts such as processing tubes, o-rings and heating elements are not covered by the warranty, please order the replacement at related products below.)
Certificate
Furnce: CE certified .
CSA certificate is available upon at extra cost
Components: Temperature controller and Transformer are UL or Met certified.
Package Dimension after crating
480x480x790 mm Shipping Weight 66 kg (145 lbs)
Standard Package
Premier Solutions Pte Ltd / MTI Corporation
-
1800°C Compact Muffle Furnace (4.7"x4.7"x 4.7", 1.7L) with Kanthal Super-1900 Heating Element - KSL-1800X-S